Long-term drug rehab at the Ranch at Dove Tree includes personalized and carefully implemented services. Detox and residential treatment (inpatient drug rehab) are often the first phases of care as you begin treatment for your substance use.
The Ranch at Dove Tree has two specific residential programs at our drug rehab center:
Emerging Adult Program
Traditional Program
Our Emerging Adult Program is designed for young adults, ages 18-25. Our Traditional Program is typically for men and women ages 26 and over. Each of our two core programs has separate approaches and a program-specific team of experts. Our clinical staff is certified, experienced, and specially trained in working with all types of substance use and co-occurring mental health issues.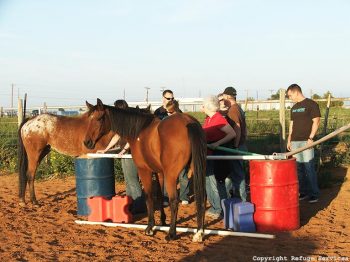 Also part of our long-term inpatient drug rehab are support and wellness activities, including:
Yoga
Art
Wellness through both our gym/activities center & nutritional services through our trained chef
Equine therapy
Residential treatment gives you the time to learn and practice skills that are necessary for a lasting and strong recovery from drug and alcohol use. You'll continue to strengthen these skills as you move through the less intense levels of care, such as IOP and The Ranch at Dove Tree's outpatient services. Dove Tree's counselors understand the ups and downs of the recovery process and provide the compassion and support that keeps you moving forward.
You and your family are at the center of The Ranch at Dove Tree's nationally regarded continuum of care. This means that upon completing residential treatment, you continue to receive help and support through:
Transitional living with an integrated Intensive Outpatient Program (IOP)
IOP while living at home, a halfway house, or other housing option
12-step meetings and other sober social support
Outpatient services
The Ranch at Dove Tree's Long-Term Inpatient Drug Rehab Approach
We believe in empathy and respect, along with honest interactions at The Ranch at Dove Tree. Long-term drug rehab at The Ranch at Dove Tree requires time and commitment. Instant rehab does not exist; in fact, most research will tell you that initial rehab lasts a minimum of 30 days. Longer stays are proven to be the most effective. Long-term inpatient drug rehab is just one part of the continuum of care as you take back your life from drug and alcohol use.
Long-term drug rehab also gives you the time and counseling necessary for simultaneous treatment of substance use issues and behavioral health problems. Commonly seen behavioral health concerns include anxiety, depression, and trauma.
Spend a little time on our informational website or talk directly with us, and you'll keep hearing the phrase recovery resiliency. Each customized care plan utilizes both evidence-based approaches and a variety of supplemental treatment. A personal toolkit is developed that helps you keep recovery going as you transition through the complete continuum of care, including outpatient drug rehab. Completing residential treatment at The Ranch at Dove Tree doesn't mean that life will be without stress or challenges, or that treatment and support are over. We help you identify strong personal tools that will help you face life's challenges. No one lives a problem-free existence, but knowing how to manage difficulties is what makes a person resilient. We encourage you to contact The Ranch at Dove Tree directly for more information on how we can help you or a loved one.
What to Expect in The Ranch at Dove Tree's Long-Term Rehab
Dove Tree's long-term drug rehab can also be considered a holistic drug rehab program. We treat the whole person, not just the behavioral health problem or substance use. Achieving wellness means that the body, mind, and spirit are healthy. Balance between each of these areas is important, so you work closely with your primary therapists on this wellness process.
The Ranch at Dove Tree residential campus is located on 15 beautiful West Texas acres. Long-term inpatient drug rehab in this naturally serene setting allows you to distance yourself from the stress of daily life. Treatment days at The Ranch at Dove Tree are intensive, challenging, and life-changing experiences. Compassionate support is provided 24 hours a day by a specially trained staff who care about your recovery. Rest and relaxation are also important components of wellness. Our facility, which treats up to 56 clients, is designed with comfortable accommodations that offer a homelike atmosphere.
Our Emerging Adult Program focuses on several specific areas:
Physical safety
Positive identity
Emotions
Security
Sense of competency
Personal mission & service
Belonging & community
The clinical focus for long-term inpatient drug rehab for adults concentrates on:
Life skills identification and integration
Healthy family
Personal sense of purpose and hope
Commitment to service
Transition into other parts of the continuum of care, such as The Ranch at Dove Tree's transitional living program and outpatient services, continues to develop the important skills and tools learned during your residential treatment stay.
For more information on The Ranch at Dove Tree's long-term drug rehab services, simply contact us at 800.218.6727, any time, day or night. We're here for you.