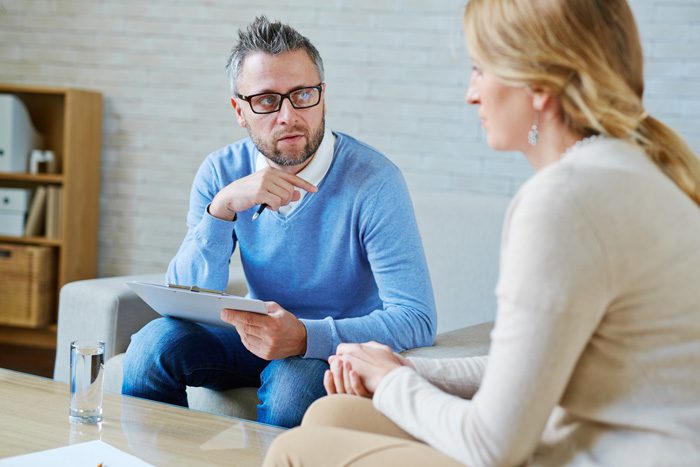 Movies like When a Man Loves a Woman and 28 days along with the Netflix series Love all deal with recovering from addiction and include the compulsory group therapy scene.
Despite its prevalence in pop culture, however, therapy's role in the recovery process is often murky to those who have never received treatment.
If you or your loved one is considering entering residential treatment, you might be unsure what therapy entails and how it will factor into your recovery.
Addiction is a disease with physical, mental, and emotional causes. Fighting physical dependence is one important element of addiction treatment. But this is just part of the battle. If you want to maintain your sobriety, it's important to also treat the emotional factors—including co-occurring conditions like depression—that contribute to substance use.
According to the National Institute of Drug Abuse, the purpose of therapy is to help individuals change their attitudes and behaviors concerning drug or alcohol use, engage in treatment, and cultivate healthy habits for the future.
In a holistic treatment program, such as the one offered by The Ranch at Dove Tree, therapy can take many forms:
Individual Sessions: Individualized support can help you understand the root causes of your disease in a safe environment. Therapy sessions might consist of spending time one-on-one with a professional counselor, discussing your experience with addiction, and working to understand your emotions, triggers, and motivations. Individual therapy is particularly important for those with coexisting conditions that contribute to addiction, like depression, bipolar disorder, or any other significant mental health problem.
Group Sessions: Group therapy is probably the form of addiction treatment that you are most familiar with from TV and movies, and that's partially because it is an essential part of the recovery process. Group therapy sessions are a communal experience in which a professional counselor moderates a discussion between people who are being treated for the same disorder. It can be scary to share your mistakes with others, but the benefit of group therapy is that others in recovery–better than anyone else–will be able to relate to what you are going through. Networks of support are a key part of achieving and maintaining sobriety.
Cognitive Behavioral Therapy (CBT): This form of therapy teaches individuals how to recognize and neutralize the moods and situations that stimulate cravings for substances. Therapists help clients make a plan for dealing with triggers of their substance use and practice replacing negative thoughts and feelings with positive ones. The skills learned in CBT are lifelong and can be used to handle the diverse, challenging situations that you encounter after leaving residential treatment.
Multidimensional Family Therapy: Family relationships are often closely related to addiction. Parents, spouses, and children may all be dealing with pain and resentment related to substance abuse; they may also have learned negative habits that contribute to, or even enable, their loved one's addiction. In family therapy, family members are invited to be an active part of recovery by participating in counseling sessions and learning more about addiction. The Ranch at Dove Tree emphasizes family relationships throughout our treatment programs, including a special Family Week. Research shows that this form of therapy leads to lower relapse rates, improved family relationships, and, for children of addicted parents, better overall functioning and coping mechanisms.
Access to professional, customized therapy is one of the key reasons that choosing a residential treatment program is so important. At The Ranch at Dove Tree, every resident will receive an individualized treatment plan that focuses on psychological and emotional health as well as physical and nutritional needs. If you are ready to fight your addiction, choose a program that incorporates therapy to treat the root causes of substance abuse, not just the symptoms.