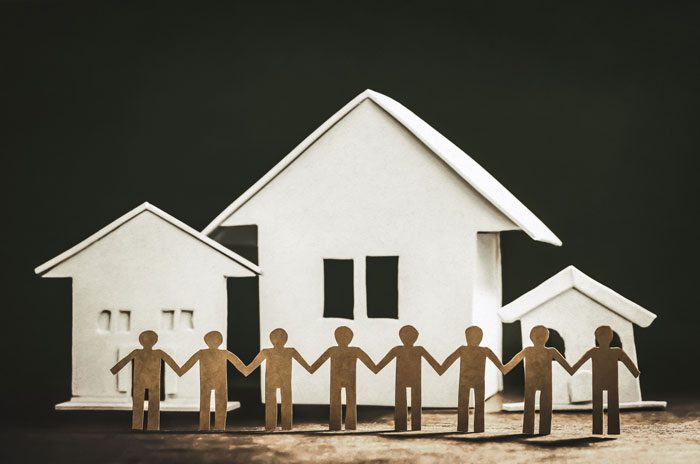 By Sandy Baker
After detox and inpatient therapy, many men and women are simply not ready to move back into day-to-day life.
A lack of a safe environment and adequate housing can be a key factor in why some people relapse and others thrive. Individuals facing drug use and addiction may benefit from moving into transitional housing. This type of housing provides a near-normal lifestyle where individuals may get employment, become exposed to the world around them, and take a step away from their treatment facility. Transitional housing can be one of the most important components to the recovery process.
Does Transitional Living Really Matter?
After addiction treatment, the question of where to live becomes a key concern. Moving back into their existing lifestyle may mean more exposure to drugs and alcohol. It also may mean exposure to those who led them to the addiction lifestyle. Or, they may seek to live on their own, if they can find suitable employment to fund doing so. Getting back to a daily routine isn't easy and typically can be challenging for someone in recovery.
Transitional housing offers a stopping point of sorts. A study published in the U.S. National Library of Medicine that looked at 300 people who used several forms of sober living houses found that individuals in these programs attended 12-Step meetings more frequently, had lower alcohol and drug use within their social network, and overall had better outcomes. Enrolling in these programs does not guarantee a specific outcome, but it can help many people to have a better chance at that type of success.
What Happens in Transitional Living Spaces?
Each transitional living community is a bit different. The services, layout, and access range widely from one program to the next. In some situations, it is beneficial to choose a drug and alcohol treatment facility based on their transitional living program, at least in part. The Ranch at Dove Tree offers gender-specific transitional living programs. These programs are far more than just a place to live.
The services available through the Ranch at Dove Tree are extensive. They include intensive outpatient support, individual counseling, daily 12-Step meetings, and 24-hour treatment team support. Transitional living also includes a wide range of services designed to promote the development of independent living, including providing a resume and job placement help as well as peer support groups.
When a person moves into one of these locations, they embrace a new lifestyle. These individuals are highly vulnerable to relapse at this early stage. That is why transitional living communities take abstaining from use seriously. Random drug tests are a common condition of remaining in the program.
Understanding the Goals of Transitional Living
When you leave treatment from drug or alcohol addiction to enter into transitional living, there is a strong focus on helping you to get ready for the next phase of your life. To do this, the programs tend to offer several key components.
They help you stay the course. The most important component is the program's constant support to encourage healthy, drug-free living. With 12-Step meetings, daily therapist appointments, individual counseling, and ongoing support from peers, you gain a sense of how valuable staying clean is.
They help you get healthy. There's much more to getting healthy than just staying clean. Most people also need to consider their overall wellness. Transitional living programs often offer wellness programs to help you to ensure your nutrition and overall health is positive. Some, such as The Ranch at Dove Tree, also focus on providing you with a gym membership and an outdoor adventure program. This helps you improve your physical health.
They get you ready for what's next. You can't just step out into the world and be successful. You need support getting there. Transitional living helps you by allowing you to get academic and college support. You'll get help with your resume and job placement. Many programs also help you with life skills education.
A combined program that leads from inpatient care to transitional living can give you the access and support you need at this very vulnerable time of your life. Consider what it could mean to you to enroll in a program like this. Could it help you avoid relapse or help you to get a job sooner?
For those in drug or alcohol treatment, or those seeking care, contact The Ranch at Dove Tree to learn more about the transitional living program and how to be a part of it. As one of the most valuable components of recovery, we encourage you to make this a focus of your care.