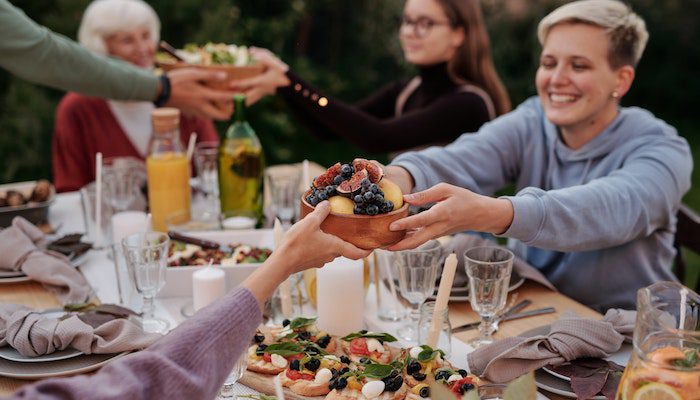 The holidays are stressful for many people. Just being around people that you may not get along with and dealing with the ups and downs of making everyone happy is hard to do. When you add addiction recovery to the picture, Thanksgiving can seem like an impossible day. How are you going to hold it all together when your family has traditions that often include substances like alcohol?
Making the Changes That Matter
You cannot force anyone to change their traditions or to alter experiences just for you. You can ask them to, and you can hope they will help. If they choose not to work with you, you can decide to go your own way. When you're working hard for your sobriety, the last thing you want to do is jeopardize it for one day.
This year, instead of focusing on how to avoid that uncle who's always forcing a drink into your hand, create some new ways to celebrate the holiday. Remember how much you have to be thankful for this year. You can celebrate this day with a combination of traditions you love and the support you need. Here are some ideas to manage the stress of the holidays.
#1: Open Up to Your Loved Ones Early On
Take a few minutes this week to talk to your family members about Thanksgiving, your risks, and what they can do to help. This is a great time to open up the conversation about your recovery and how important it is that you have support. It may be an opportunity for family members to learn how they play a role in your success, too. Don't expect family to recognize what you're really facing on a daily basis; describe your struggles for them.
#2: Host a Meal for Your Friends with Substance Use Disorders
If you have the ability to do so, host a few people from your drug or alcohol treatment facility or perhaps your local meeting. Bring people together to share, splitting the costs as you do. Offer support to the person you know who will be alone this year, showing them that you're there for their recovery, too. Encourage your family to be a part of the experience, showcasing to them how important it is to provide a helping hand.
#3: Make It Clear You're Not Serving Alcohol of Any Type
One of the most important steps you'll make this holiday season is to let others know that the event you're hosting will not include alcohol. If you are hosting a dinner on the holiday, simply let your guests know it will be a dry holiday. If that's a concern, tell them you understand and hope to be able to spend some time with them another day.
#4: Add Fun Activities to Distract Others
Without alcohol, people may become a bit more interested in spending some time together as a family, doing things that are fun together. Here are some ideas but come up with your own, too.
Host a pie-baking competition. Have each family create their own and bring it to sample. Award the winner with a spatula they can use to recreate the pie for Christmas.
Have the kids design placemats for each person at dinner. Encourage each person in attendance to write a message to that individual on the back of the placemats. Share them at mealtime.
Provide each person with a notecard and pencil to write down something they are thankful for and then share them or tuck them away in a memento box you add to each year.
Set up a bonfire outside after dinner so that everyone can enjoy one last evening of s'mores.
Film some TikTok videos together. Share fun dances or recreate your favorite videos with your relatives. Get them up and moving.
#5: Host Thanksgiving Breakfast Instead of Dinner
One way to minimize the risk of having to deal with alcohol is simply to host a breakfast instead of a Thanksgiving dinner for those most important to you. Set it up for early in the morning, invite your guests, and encourage everyone to stop by even if they cannot come for very long. It's a great way to see your loved ones without having to commit to hours of time spent talking.
#6: Go to the Beach, Lake, or a Park
This year, get outdoors. When possible, plan a trip for the day to a nearby park or lake to spend time walking and soaking in the sun. If the weather is too cold near you, think about the benefit of a short weekend away. Spending some time in a relaxed, warm place with your closest loved ones could be refreshing.
#7: Spend Your Day Giving Back
Volunteering is one of the best ways to create a memorable, family-focused Thanksgiving that brings out the true meaning of the day. Go to the food bank to help pass out food. Cook a turkey for the senior neighbors in your area and deliver it to their door–then stay and talk with them for a few minutes. Host a toy drive for the holidays or support a community meal. Reach out and talk to a loved one in need of help for addiction.
Thanksgiving Can Be Difficult – But You Can Be Stronger
Creating memories is the most important part of Thanksgiving. When you need some help getting to the point where you feel you can stop using alcohol, let our team at The Ranch at Dove Tree in Lubbock, TX, support you. Contact us today to learn how.