With the upcoming election only months away, Republicans and Democrats are gearing up to battle their way into the White House.
With tension growing every day, many may be surprised to find one issue bringing both parties together: a drug abuse bill introduced by Senator Joe Munchin (D) of West Virginia.
The stigma of addiction is the most difficult to shake of any disease. Often those suffering know help is available, but many people who are addicted feel shame, embarrassment, and fear in coming forward and asking for help. A prescription drug abuse bill aimed at reducing the rate of opioid abuse could be the catalyst for many to shake that stigma of addiction and come forward for help. The bill has been well received by many and has even gained the backing of President Obama.
The very word "addiction" conjures stereotypical images of homeless addicts, drug paraphernalia, and other extremes absorbed from mass media.
The reality of drug abuse in America is that while drugs are smuggled across borders and peddled on street corners, addiction takes many forms and often goes unnoticed. One of the biggest drug threats in America comes from your local pharmacy. Fatal drug overdoses are rapidly increasing, the vast majority of which are caused by opioids.
"Of the 21.5 million Americans 12 or older that had a substance use disorder in 2014, 1.9 million had a substance use disorder involving prescription pain relievers and 586,000 had a substance use disorder involving heroin. (Center for Behavioral Health Statistics and Quality, 2015)".
Studies from the National Institute on Drug Abuse shows that "from 2001 to 2014 there was a 2.8 fold increase in the total number of deaths" ("Overdose Death Rates," 2015). The chart below that describes the number of overdose deaths from prescription drugs between 2001 and 2014. The numbers are astounding: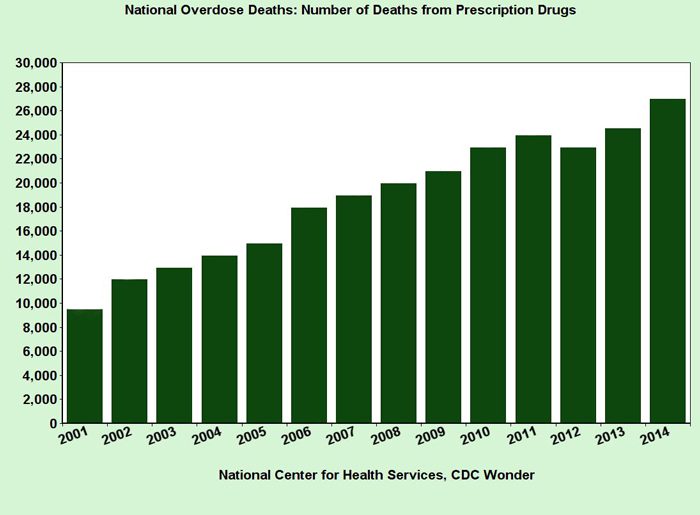 Overdose deaths from Benzodiazepines rose from just under 2,000 to 8,000 from 2001-2014.
National overdose death rates from prescription opioid pain reliever overdose deaths saw a rapid 3.4-fold increase, and heroin deaths increased a whopping 6-fold from 2001 to 2014 (2015).
It's well known that prescription painkillers like morphine, oxycodone, hydrocodone, have the same active ingredient has heroin. These drugs are prescribed by many doctors without a second thought and are extremely addictive. This is where an especially dangerous example of the stigma of addiction is preventing addicts from seeking help. The focus changes from shifty deals on street corners to the average American with a white picket fence opening a bottle from the medicine cabinet. This is where it becomes especially hard for people to admit or recognize addiction and seek help. Reputation in the community begins to take precedent over health.
The drug abuse bill headed to the Senate floor would drastically change the restrictions on commercially available opioids.
Medical practitioners will be required to receive more intensive training in pain management and use of opioids. By amending the Public Health Service Act, the bill targets education of patients as well. Many safety measures are already in place in the United States; increasingly tight management of pain clinics creates less opportunity for abuse by controlling the dispensing of opioids and requiring a patient to have their medication counted on each visit to minimize the chances of abuse.
As both parties come together to try and introduce legislature shedding light on a rapidly growing problem in America, perhaps the stigma on addiction can be lifted just enough to encourage those suffering to come forward. Addiction is not black and white. Grey areas abound, and in these grey areas we find the same pain and suffering this disease creates in all forms. Help is available to all, and like elected officials are doing, we too must speak up.
For more information about The Ranch at Dove Tree, please feel free to contact us anytime at 800.218.6727.
Resources:
All Info – S.1431 – 114th Congress (2015-2016): Prescription Drug Abuse Prevention and Treatment Act of 2015. (n.d.). Retrieved January 29, 2016, fromhttps://www.congress.gov/bill/114th-congress/senate-bill/1431/all-info
Center for Behavioral Health Statistics and Quality. (2015). Behavioral health trends in the United States: Results from the 2014 National Survey on Drug Use and Health (HHS Publication No. SMA 15-4927, NSDUH  Series H-50). Retrieved fromhttp://www.samhsa.gov/data/
Overdose Death Rates. (2015, December). Retrieved February, 2016, fromhttp://www.drugabuse.gov/related-topics/trends-statistics/overdose-death-ra…