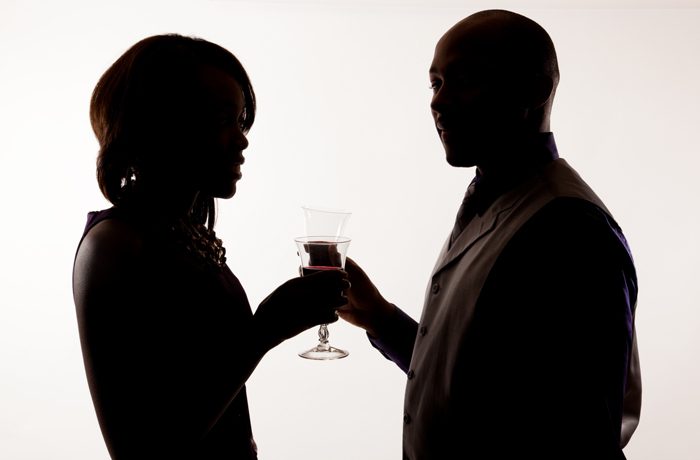 By Cristina Utti
Friendships are formed when we find people with whom we share similarities. Everyone likes to be with people with whom they can relate, who share the same hobbies or beliefs. Friendships are formed in churches, in organizations and groups, and in drinking and drug use. If someone is a drinker, they will choose a partner that drinks, the same goes for someone who uses other substances.
Socialization is another part of the process of choosing friends. A study researched how young adult drinking effects young men and women that are in a romantic relationship. Data was taken from The National Longitudinal Study of Adolescent Health, which was a school-based study of adolescents' health-related behavior and their effects. The study was done in three "Waves." Wave 1 was done in 1995 when participants were 12 to 16 years old, Wave 2 one year later, and Wave 3 six years later when the participants (1507 couples) were 18-26 years old. It focused on young romantic relationships, measuring attitudes, behaviors, and outcomes in relation to consumption of alcohol within the relationship. The ethnic make-up was: 60% Caucasian, 15% African American, 5% Native American, and 8% Asian/ Pacific Islander.
Some facts found in this study are:
Dating partners' drinking was associated with participant's change in drinking habits.
Married young adults were less likely to drink together.
Gender is important. The more a male's partner drank, the more he drank. Women were less likely to drink more to keep up with their male partner.
Drinking buddies led into drinking partnerships.
Getting married lowered alcohol consumption.
The transition from single to married lowered women's drinking.
In longer marriages, men's drinking declined.
Consuming alcohol while dating may lead to continual drinking after getting into a committed relationship.
The connection between dating and drinking is clear. Young adults, and most adults in general, may have a few drinks while dating to take the edge off and be more comfortable. The need for this decreases once marriage is established. There is also the danger of getting into a committed relationship that began by drinking together, as this pattern may continue into a marriage and family and not be healthy because they never got to know each other sober.
More programs in high school should discuss this dating/drinking pattern so young adults can be better educated about the choices they make while choosing a partner.
Do you or someone you love need addiction treatment? Contact the Ranch at Dove Tree today at 800.218.6727.
Reference:
Wiersma, Fischer, Cleveland, Reifman, and Harris. "Selection and Socialization of drinking among young adult dating, cohabiting, and married partners." Journal of Social and Personal Relationships. DOI: 10.1177/0265407510380083