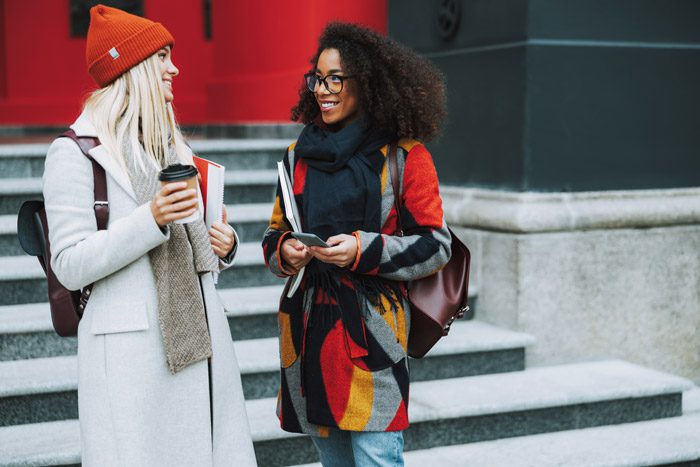 By Sandy Baker
Working through drug addiction treatment is one of the most profound steps you can take to improve your life. If you interrupted your college career to seek treatment, returning to your old life can feel scary. You want to go back to school and do well. You want to achieve your goals, but at the same time, you're terrified of failing.
Support Tailored to Your Needs
If you've graduated from a collegiate addiction treatment program, remember that you are not alone. Your program will work with you to create a plan, a toolkit of resources, and the support you need.
Your Recovery Continues After Treatment
Returning to college after rehab will be challenging. After all, you're starting over. You know that returning to your old patterns will likely lead to relapse, so you need to approach your college career in a new way. You may need to make new friends and/or have some difficult conversations with your old friends. You may need to change your living situation. You may need to continue with outpatient treatment. On top of all of this, you need to catch up on your coursework and develop relationships with professors, mentors, and potential employers in your field.
To help you adjust to your new situation, consider incorporating the components listed below into your post-treatment plan.
Contact your school's counselors and health services provider. The information you share with them is confidential. Having someone on campus who knows what's happening is important. Managing anxiety at college requires having someone to talk to.
Create a team. Friends who don't use drugs or alcohol, professionals you trust, and members of an in-person or online support group can be your go-to for tough days and situations. They can give you the confidence you need in those challenging moments.
Create a healthy lifestyle plan. Eating healthy meals packed with nutrition and getting routine exercise are good for your recovery. They also give you basic goals to work on each day.
Work with your therapist to understand your triggers. Everyone has them. Knowing what they are and how to avoid them at school will be important. Develop strategies with your therapist for how to manage each one.
Find local support groups to be a part of every day. College is a challenging, high-risk time for those in recovery. Having access to group therapy can give you some support.
What Can Drug and Alcohol Treatment Programs Do for You?
When you enter into our collegiate treatment programs, you'll gain much more than just your sobriety. You'll be empowered with insights and tools to help you get back to school and life. That includes teaching you the reintegration of key life skills. Keep in mind that your recovery skills are based on how much effort you put into them. You'll need to think about:
Building relationships with friends who don't use
Working on family relationships and trauma that may have contributed to your use
Developing communication strategies to avoid alcohol and drug use
Committing yourself to serving others
Focusing on positive thoughts of hope and purpose
Creating educational goals and striving towards them daily
Seeking out help and counseling to stay on the right course
Are You Ready to Move Forward in Recovery–and Back to School?
While you may see going back to school as a scary situation, think of it as an opportunity to show yourself how strong you are. Committing to your goals will empower you to stay clean and to overcome future challenges. Our therapy team at The Ranch at Dove Tree can help you find the tools you need to return to school stronger, healthier, and with hope for your future.