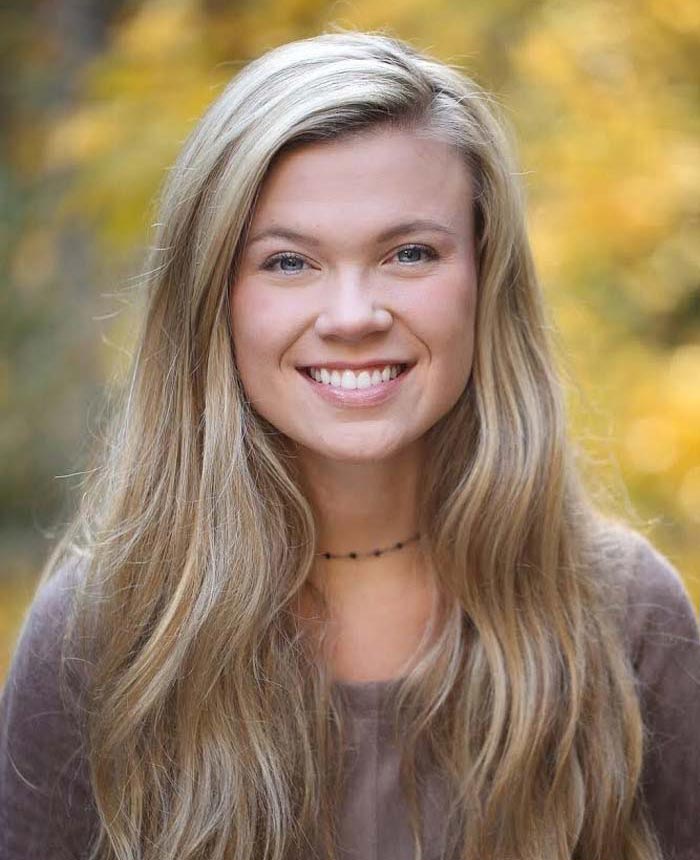 By Dana Hinders
Taylor Wesley is passionate about eliminating the stigma associated with mental health disorders and encouraging young people struggling with substance abuse to seek addiction treatment. She's currently The Ranch at Dove Tree's National Collegiate Development Specialist, as well as an accomplished motivational speaker known for sharing her personal addiction story with candor, sincerity, and humor. "This is something I truly believe in," she said. "The Ranch at Dove Tree set the tone for my recovery, so I want to share what I learned and be a resource for others in need of treatment."
Taylor's Addiction Story
Taylor struggled with anxiety and panic attacks from a young age. Once she started college, her mental health issues took a toll. "When I got to college, the freedom to make my own decisions was overwhelming," she said. "I felt like I wasn't capable of handling the work. I worried that there was something wrong with me."
When Taylor had her first sip of alcohol, she was hooked. "The first time I drank, all my worries went away," she said. "I fell in love and I never wanted that feeling to go away. Soon, I was drinking multiple times per week and getting blackout drunk on regular basis."
Drinking to excess quickly become Taylor's way of self-medicating the symptoms of her anxiety. "It became a vicious cycle," she said. "I felt great when I was drinking, but the next day I felt worse and worse. Eventually, I hated being sober because I only felt like myself when I was drinking."
Taylor hit her personal rock bottom when she was just 20 years old. Her parents found her passed out and unresponsive after a night of drinking. Later, they learned her BAC was just .02 away from her organs shutting down. "This was when I realize my drinking was killing me," she said. "Before that, I told myself my drinking wasn't that bad because it was legal and part of the college experience. I didn't realize that abusing alcohol was no different than abusing any other drug."
Beginning Her Recovery Journey
Like many people, Taylor's recovery involved a bit of trial and error. The outpatient treatment she initially tried didn't provide enough support and she struggled to identify with the experiences of the older adults she encountered in group therapy.
The Ranch at Dove Tree's collegiate recovery program proved to be the right fit. Taylor realized she could relate to the young adults dealing with similar issues while trying to find their place in the world. "I always thought that I was special and nobody could understand how I was feeling or what I was struggling with," she said. "I didn't realize that one in four students struggles with mental health. Addiction doesn't discriminate by age or background."
The Ranch at Dove Tree's focus on co-occurring disorders was instrumental in Taylor's recovery. Clinical staff guided her through ways to manage her anxiety and the underlying issues that led to her problems with alcohol. "My counselors had such an impact on me," she said. "They helped me rediscover parts of myself I had forgotten, including an appreciation for art. Every day, I was challenging myself and growing in new ways."
A Fresh Start
Once Taylor had learned the coping skills necessary to stay sober, she was ready to return to school. "Going back to school was difficult because I associated college with drinking," she said. "I had to relearn what was necessary for academic success, but I found a strong community of sober students. When I decided to be open about my recovery, my friends were supportive."
In 2015, Taylor was named Miss Homecoming at Auburn University. At her coronation, she held her very first sobriety chip as a reminder of all she'd accomplished. Her parents, whom she describes as her biggest fans, were with her to celebrate. "My dad said seeing me crowned at homecoming was one of the best moments of his life," she said.
Today, Taylor says she couldn't be happier. "I have more fun in sobriety than I ever did drinking," she said. "I've formed relationships that truly matter and met incredible people in recovery."
Giving Back
Building a sober identity is one of the most exciting parts of the recovery journey. For Taylor, giving back plays a key role in the new life she's created for herself. Inspired by the support she received during treatment, Taylor speaks publicly about her recovery journey to audiences across the United States. "I began my own platform called Spread Wellness with Wesley," she said. "This is when I discovered the power of the word "WE" and the power of community around the topic of mental health. If you take the "I" out of Mental Illness and replace it with "WE" it creates Mental Wellness."
In her role as a National Collegiate Development Specialist, Taylor builds relationships with universities, counselors, and people who work with young adults to provide information about the disease of addiction and The Ranch at Dove Tree's unique treatment options for young adults. She acknowledges that young people often don't want to seek treatment, but encourages them to keep an open mind. "You can feel sorry for yourself or you can look at this as an opportunity to listen and learn," she said. "Get real, get vulnerable, and reach out for help. This one choice can save your life."